ADHD and Learning Differences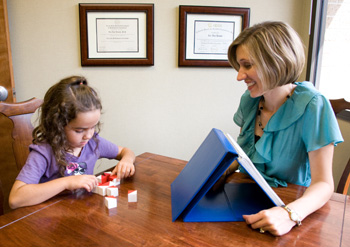 All children vary in their mental, social, emotional, and psychological development. However, if you are concerned that your child is delayed in meeting a developmental milestone, Pediatricians of Dallas strives to provide comprehensive care through these developmental stages. We offer consultations for developmental delays as well as psycho-educational testing to properly diagnose developmental disorders. Our educational specialists, Lee Ann Hamm (Licensed Professional Counselor & National Certified Counselor), Abbie Douglas (Licensed Professional Counselor), and Karen Bunger (Certified Educational Diagnostician) offer consultations to discuss a parent's concerns as well as diagnostic assessments for developmental delays such as Autism Spectrum Disorder, Asperger's Disorder, ADHD, Dyslexia, Dysgraphia, Mood Disorders, and other related learning disabilities.
To best understand your child's developmental needs, we would recommend a developmental consultation to review your child's history and current symptoms of concern. If diagnostic testing is recommended, our educational specialists individually administer assessments, and then confidential results are reviewed with parents at the following session. If your child is diagnosed with a developmental disorder, he is referred back to the primary pediatrician for a medical exam and discussion of the treatment plan. All results of psycho-educational testing are compiled into a report format that may be released by the parents to the child's educational setting and appropriate specialists.
Learning Disabilities and Dyslexia ( 1st – 12th grade )
Areas tested include intellectual functioning, decoding, phonemic awareness, spelling, written expression/dysgraphia, reading comprehension, reading rate, reading accuracy, reading fluency, listening comprehension, oral expression, basic math calculations, and applied math reasoning.
ADHD ( 5 – 18 year olds )
Symptoms include inattention, hyperactivity, impulsivity, difficulties following verbal directions, short/long term memory delays, cognitive distraction and difficulties initiating/completing written tasks.
Language Testing ( Birth – 6 years, 11 months of age )
Listening Comprehension and Oral Expression ( Receptive and Expressive Language ), includes an articulation screener.
Cogmed Working Memory Training
What is Cogmed? Cogmed Working Memory Training is a web-based intervention for attention problems caused by poor working memory. Cogmed combines cognitive neuroscience with innovative computer game design and close professional support to deliver substantial and lasting benefits to our users. With our coaching and support you will likely improve in the ABC's of Cogmed: Attention, Behavior and Capacity to learn. For more info: http://www.cogmed.com/pediatricians-dallas
Psychological Evaluation
Includes a structured interview with the parent and an evaluation screening of anxiety, depression, anger, and other mood disorders.
To make an appointment, call Beverly. She will make the appointments for the initial parent interview and the evaluations.
Lee Ann Hamm, M.S.
Licensed Psychological Associate (Supervision by Donald R. Lammers, PhD)
Licensed Professional Counselor
(214) 394-9702


Karen Bunger, M.S.
Certified Educational Diagnostician


Abbie Douglas, M.S., LPC
Licensed Professional Counselor
Suggested Resources